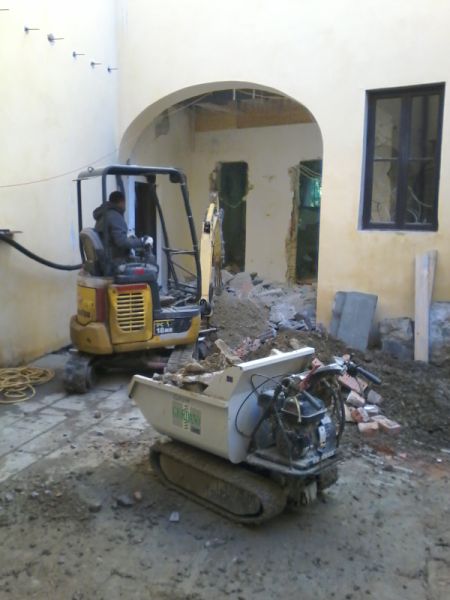 For several years, the House of the Royal Heart, also known as Villa Cerbiosa, located about two kilometers downhill from Gricigliano, has been undergoing major renovations. Gradually, the building has been coming back to life: after the roof and facades were finished in the early 2010s, now the interior is undergoing an almost complete restoration.
It was Villa Cerbiosa that first welcomed the novitiate of our community, and we began the restoration for the purpose of housing the novitiate. But Providence seems to have decided otherwise: God has since entrusted us with a large convent in Naples-Barra, which is more suitable for the formation of the many novices who come to join us, vocations that could not have been received in the House of the Royal Heart House, even renovated.
The House remains, of course, the Mother House of the Adorers, where our Mother Superior will reside. It will now be able to accommodate full-time a dozen or so sisters, and even the entire novitiate (by converting the large rooms into temporary dormitories) for occasions such as religious professions or investitures or for other large ceremonies.
The recent renovations have made it possible to utilize the third floor of the building, hitherto inaccessible and consequently unused, and thus to gain many new rooms. Architecturally, the house has regained a certain coherence, notably through the restoration of the original stairways, as well as the renovation and the unification of the floors.
Thanks to these improvements, a part of the house can be dedicated to administration. These new spaces will allow the installation of several offices and rooms for archives that had been sorely lacking and that will be used by the Sisters Adorers as well as by the Institute's central administration.
The indispensable restoration of the building, especially the parts seriously damaged by the fire or by infiltration, has provided us with an opportunity to rethink the use of the rooms, while respecting the artistic and architectural constraints. More than fifteen years of work have been necessary to revive this beautiful Tuscan villa, which the Providence had chosen for the first steps of our community, and which is becoming today an indispensable element in the development of the whole Institute of the King Sovereign Priest and the Sisters Adorers of the Royal Heart of Jesus Christ Sovereign Priest.